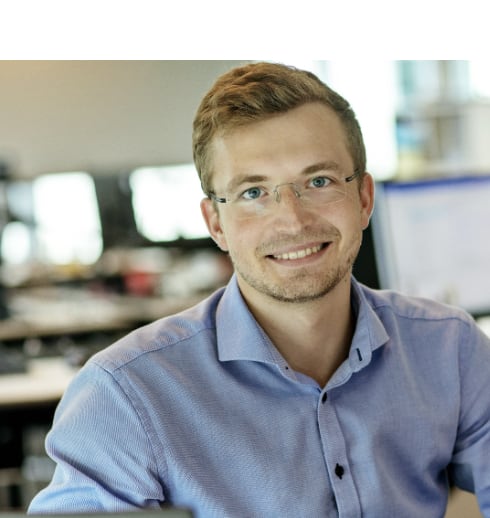 VISIT NNIT CZECH
SEE ALL JOBS
Make your mark with NNIT
At NNIT, you can make your mark on some of the most challenging projects in the IT industry, on our journey forward as a company, and on your own career.
Tracing our origins to the Novo Nordisk Group, we have more than 25 years of experience providing IT solutions for the pharmaceutical industry. Today, we have expanded to cover a broad range of industries in which quality and security are top priorities.
Headquartered in Denmark, we place our largest European nearshore delivery center in Prague, to be geographically closer to our most important clients. We work closely with colleagues across Europe, Asia and USA, together we are more than 1,700 colleagues.
Our Culture & People
At NNIT, we embrace a strong sense of equality, independence, and flat hierarchy. It is part of the Danish culture. Everything we do, we keep it open and honest, value-adding, and conscience-driven.
We believe mutual trust motivates people to work hard and make their marks.
NNIT Czech Republic is continually expanding. We are hiring top talents for our Winning Solutions areas of Life Sciences, Data & AI, Cybersecurity, SAP solutions, Microsoft solutions, and many more.
Meet your future colleagues at NNIT
Meet Martin, Senior Consultant in Life Sciences
Meet Ivan, Integration Consultant
Employee Benefits
5 weeks of vacations/year
5 sick days/year
Flexible working hours
Possibility to work from home
Cafeteria flexible spending account (12,000 CZK/year)
Meal vouchers in the amount of 100 CZK per workday (NNIT covers 55 CZK)
Fully covered MultiSport card enabling free entry to sports facilities in the Czech Republic
Free breakfasts on Mondays and monthly Friday Bars (free beer and snacks)
Free fruits and vegetables from Monday to Thursday
Wide selection of tea and coffee for free
Yoga classes in the office
Height-adjustable tables, relax zones with Xbox, PlayStation, and table tennis
Czech and Danish language lessons
Annual flu vaccination for free
Candidate Experience
At NNIT, we value every job applicant. Therefore, your candidate experience is crucial for us. Below you can find the description of a standard recruitment process, showing you what to expect when applying for a position at NNIT.
After application, you will usually receive feedback within 5 working days
There are usually two rounds of interviews:
The first round is with the hiring manager and potentially a technically experienced colleague. You will receive feedback within 2 weeks.
The potential second round is with the hiring manager, global lead (optional), and local HR. You will receive feedback within 5 working days.
Successful candidates will receive feedback directly from the hiring manager with a job offer letter.
We are looking forward to meeting you!
Let's connect on social media
Find us
NNIT Czech s.r.o
Explora Jupiter building
Bucharova 2641/14, 2nd floor
158 00 Prague 5
What we do
We are one of Denmark's leading consultancies in IT development & implementation.
We advise on and build sustainable digital solutions that work for the patients, citizens, employees, end users or customers.
We strive to build unmatched excellence in the industries we serve, and we use our domain expertise to represent a business first approach – strongly supported by a selection of partner technologies, but always driven by business needs rather than technology.
About NNIT Czech
Located in Prague, our Czech office takes advantage of the country's skilled workforce, business-friendly environment, and reliable IT infrastructure to serve as a gateway to the European market and an emerging IT center.
From this central hub, we provide IT transformation services and solutions to international life sciences companies as well as the private and public sectors in Denmark. We seek out individuals who strive to make a mark in business and society through technology, including project managers, scientists, engineers, digital and data experts who work across various domains, such as lab environments, clinical operations, regulatory affairs, manufacturing, supply chain, and system validation.
Additionally, we're on a mission to establish a software powerhouse that leverages cutting-edge technologies in DevOps, Cloud Computing, Big Data, Low Code/No Code Platforms, Kubernetes, and Microservices. Collaborating with colleagues across Europe, the Philippines, and the United States, we embrace diverse perspectives to deliver innovative solutions.
Our Czech office initially opened in Olomouc in 2006 before relocating to Prague in 2014.
Join us
We are always looking for talented individuals to join our team at NNIT and empower those who change lives. Check out our current vacancies and join us to make a mark and improve business and society through technology.